Developed jointly by Elliott and Tri-Sen, the Gemini compressor performance monitor is a comprehensive, focused suite of software and enabling hardware for continuous monitoring, evaluation, and analysis of critical industrial compressor performance and associated auxiliary support systems.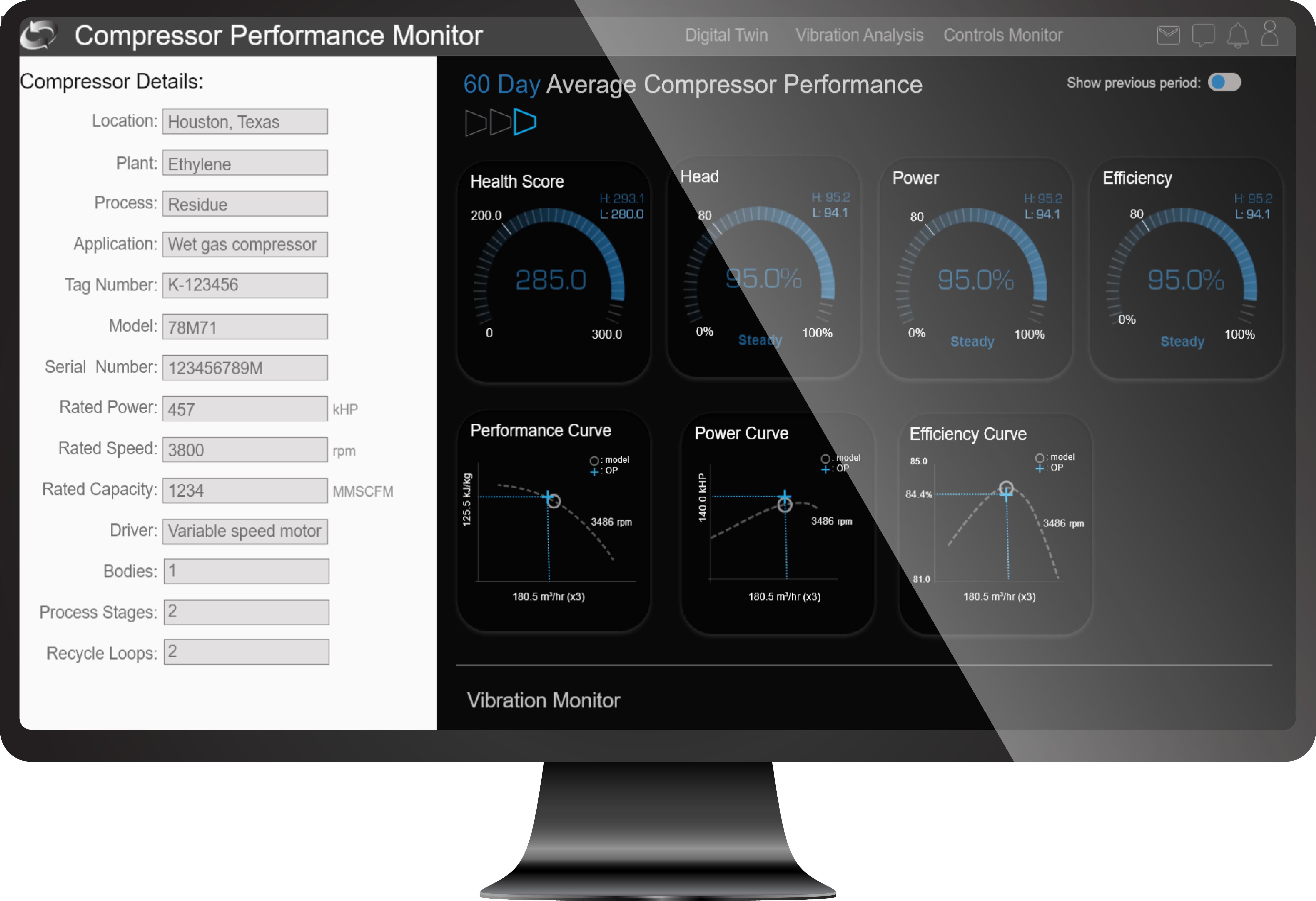 Gemini Overview
The Gemini compressor performance monitoring system is a comprehensive compressor-focused suite of software and enabling hardware that augments your plant's predictive/proactive maintenance strategy.

It includes:
Elliott's custom-designed compressor performance comparison and evaluation

Advanced vibration analysis

Remote compressor and auxiliaries controls monitoring (RCM).
The Gemini compressor performance monitor collects high-resolution compressor data by connecting to the compressor controls programmable logic controller (PLC) and the compressor vibration monitoring system. The collected data is stored in an "Edge" database, accessed by the Gemini application software, and presented in contextually relevant, easy-to-understand graphics.


You connect to the Gemini application software in a similar way you might visit a webpage; by typing in the Gemini IP address into a web browser navigation bar.

The website-type interface allows multiple users (with the appropriate security credentials) to connect to the Gemini application at any given time without having to install any special software (apart from one of the standard web browsers.)
FEATURES
Intuitive website-like interface (no client software required apart from internet browser)
Elliott custom compressor model (digital twin)
Compressor performance evaluation
Custom process interface model
Advanced vibration analysis interface
Integrated system dashboard
Remote controls monitor
Configurable alarming with push notification
Single integrated database (with a configurable update - 500msec to 5 minutes)
Modbus TCP communications interface

Two-factor user-credential-authentication to prevent unauthorized access

Multi-level password protection/access (Admin, Engineer, User, etc.)

Simple licensing
Solution Hardware Specifications
Processor: 2.2GHz or faster that supports SSE2
Number of cores: 2+
RAM: 8GB or higher
Hard disk space: 500GB or more
Network Adapters: Dual RJ45
Display resolution: 1920x1080 (CPMS supports full HD)
Power 120-240vac (UPS recommended)
Solution Software Specifications
Windows 10 or later
Internet browser to access the Gemini software (Google Chrome, Microsoft Edge, Mozilla Firefox)